Zip-lines
Low prices

from 290k RUB

Short time

from 1 month

Reliable Warranty

12 months

Support

throughout the life cycle
What objects are we building?
Ziplines are designed and built both separately and in a complex of rope parks. We have released more than a hundred objects, entertainment and transport.
Roller

Reliable steel wire rope slide is an exciting adventure. All fasteners are certified, warranty and post-warranty service

from 1 500 000 RUB

Zipline

A strong tilt of the Zipline or a long track — in any case the feeling is indescribable! Installation on supports or trees

from 1 500 000 RUB

Trolley

Different lengths and configurations of guide rails, proven equipment from reliable suppliers. Like the zipplane, it is also installed in rough terrain for the movement of goods

from 1 500 000 RUB

Ropeway

Skypark — a large-scale attraction of several stages of varying complexity, from 40 to 1000 m and more

from 1 500 000 RUB
How we work
Project agreement

Signing of the contract

Drawing up the terms of reference

Visualisation of the project in 3D

Payment

Installation
Our advantages
Installment plans

We offer individual payment terms for each client

3D model

We visualize your future park with a 3D model.

Legal aid

We provide consulting support

Master Plan

We determine the most preferable option for project implementation and form a development concept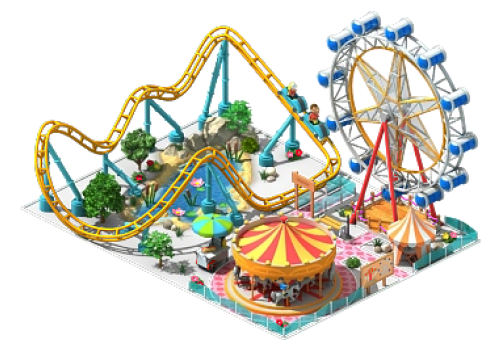 Are you planning on starting an amusement park?
Answer four questions and we will pick up the best option
The objects we built
In 12 years we have built over 100 projects, some of which are as follows
Vyborg

Frame Rope Park

The rope park «Abordage» is made in the style of a ship with an observation tower. The frame type of the park.

Kislovodsk

Rope Park on a trees

The park, located in a pine forest, is always popular with visitors. The peculiarity of the park is its accommodation on a slope.

Arkhangelsk

Rope Park on artificial poles

The multi-level park on solid foundations is one of the largest projects. Receives guests of the most different level of preparation.

Anapa

Frame Rope Park

The rope park on the Black Sea coast is a great attraction for active recreation lovers.
Build a profitable business with us!
We offer a wide range of equipment

We can help with the development of the park.

We will provide consulting support

We provide seasonal service
Leave a request for a consultation
Fill in the form and we'll call you
back in 10 minutes
Contacts
Address:
Kirov,
Zagotzernovsky proezd, 14